Disambiguation of Data Mesh, Data Fabric, Data Virtualization, Data Centric, Data Lakehouse, and Data Everything!
Published: Mar 18, 2021
#Channels: Industry Insights
About this Video/Webinar
Dan DeMers, CEO and Co-Founder of Cinchy, and Dave McComb, President of Semantic Arts and Best-Selling Author to break down the ambiguity of six data systems and products you've likely heard of but want to understand the difference
---
Popular Video Series
Learning Series
DATAcated Session: Dataware for Zero-Copy Integration
[Season 2 Ep. 10] New. Challenges Require New Innovation - CI's Data-Centric Enterprise Solutions
[Season 2 Ep. 9] The Future of Tax - How to Prepare for Tax Authorities Directly Accessing Your Data.
[Season 2 Ep. 8] Don't be Customer-Centric. Be Everything-Centric with Data Centricity.
[Season 2 Ep. 7] How the **ck (heck) do you build a Data Mesh?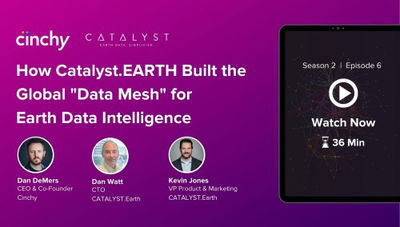 [Season 2 Ep. 6] How Catalyst.EARTH Built the Global "Data Mesh" for Earth Data Intelligence
[Season 2 Ep. 5] The Data-Centric Revolution: Stories from the Field and Lessons Learned
[Season 2 Ep. 4] Best Practices for Transforming Your Org to Data-Centricity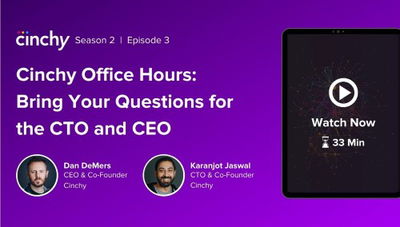 [Season 2 Ep. 3] Cinchy Office Hours: Bring Your Questions for the CTO and CEO
[Season 2 Ep. 1] How Early Adoption of a Data Fabric gives CIOs an Advantage
[Season 1 Ep. 15] Household 360 for Wealth Managers using a data-centric blueprint
[Season 1 Ep. 14] Customer Success Intelligence. How a Data Fabric enables stronger customer relationships.
[Season 1 Ep. 13] Data Fabric Myth Busting A Conversation Addressing Enterprise Architect's Top Questions
[Season 1 Ep. 12] Intelligence-Enabling Design Patterns​ That Unlock Immediate Value​
[Season 1 Ep. 11] REAL Revenue Intelligence
[Season 1 Ep. 10] Application Experiences: Gain a 10x increase in app development with a Data Fabric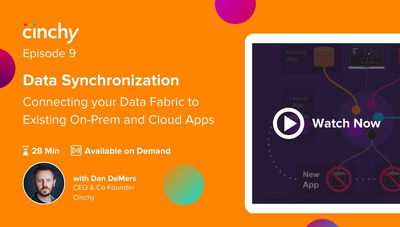 [Season 1 Ep. 9] Data Sync - Hands-on demo of connecting your Data Fabric to existing on-prem and cloud apps.
[Season 1 Ep. 8] Plasticity: How to enable schema evolution and enterprise intelligence by borrowing a key concept from the human brain
[Season 1 Ep. 7] Universal Controls: How a Data Fabric creates meaningful data ownership
[Season 1 Ep. 6] Metadata-Driven Forms: Early preview into the Human Data Experience
[Season 1 Ep. 5] Creating Cross-Application APIs and Reports in Minutes
[Season 1 Ep. 4] Active Metadata - Understanding the magic behind the Data Fabric
[Season 1 Ep. 3] Autonomous Data: How to Create and Manage Data Without Adding App-Specific Databases
[Season 1 Ep. 2] Application Augmentation - Using a Data Fabric to Make Your Apps Smarter
[Season 1 Ep. 1] The Role of the Data Fabric In Your Target State Architecture