Link Columns And Explore Data Relationships
Published: Jan 31, 2023
#Channels: Training
About this Video/Webinar
After completing this lesson, you will be able to create linked columns between different tables in accordance with 1:1 and 1:Many data relationships. The traditional users of relational databases are used to the concepts of data blending and JOINs when it comes to linking tables, including the limitations and advantages of these operations. However, Cinchy has a unique and entirely different approach to combining tables (eg. the file upload option is a link to a system table), and that needs to be clear to ensure the users make the most out of the Cinchy platform.
---
Popular Video Series
Learning Series
DATAcated Session: Dataware for Zero-Copy Integration
[Season 2 Ep. 10] New. Challenges Require New Innovation - CI's Data-Centric Enterprise Solutions
[Season 2 Ep. 9] The Future of Tax - How to Prepare for Tax Authorities Directly Accessing Your Data.
[Season 2 Ep. 8] Don't be Customer-Centric. Be Everything-Centric with Data Centricity.
[Season 2 Ep. 7] How the **ck (heck) do you build a Data Mesh?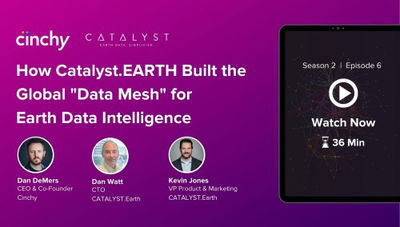 [Season 2 Ep. 6] How Catalyst.EARTH Built the Global "Data Mesh" for Earth Data Intelligence
[Season 2 Ep. 5] The Data-Centric Revolution: Stories from the Field and Lessons Learned
[Season 2 Ep. 4] Best Practices for Transforming Your Org to Data-Centricity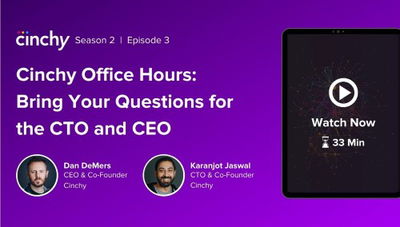 [Season 2 Ep. 3] Cinchy Office Hours: Bring Your Questions for the CTO and CEO
[Season 2 Ep. 1] How Early Adoption of a Data Fabric gives CIOs an Advantage
[Season 1 Ep. 15] Household 360 for Wealth Managers using a data-centric blueprint
[Season 1 Ep. 14] Customer Success Intelligence. How a Data Fabric enables stronger customer relationships.
[Season 1 Ep. 13] Data Fabric Myth Busting A Conversation Addressing Enterprise Architect's Top Questions
[Season 1 Ep. 12] Intelligence-Enabling Design Patterns​ That Unlock Immediate Value​
[Season 1 Ep. 11] REAL Revenue Intelligence
[Season 1 Ep. 10] Application Experiences: Gain a 10x increase in app development with a Data Fabric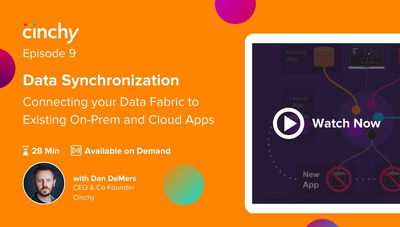 [Season 1 Ep. 9] Data Sync - Hands-on demo of connecting your Data Fabric to existing on-prem and cloud apps.
[Season 1 Ep. 8] Plasticity: How to enable schema evolution and enterprise intelligence by borrowing a key concept from the human brain
[Season 1 Ep. 7] Universal Controls: How a Data Fabric creates meaningful data ownership
[Season 1 Ep. 6] Metadata-Driven Forms: Early preview into the Human Data Experience
[Season 1 Ep. 5] Creating Cross-Application APIs and Reports in Minutes
[Season 1 Ep. 4] Active Metadata - Understanding the magic behind the Data Fabric
[Season 1 Ep. 3] Autonomous Data: How to Create and Manage Data Without Adding App-Specific Databases
[Season 1 Ep. 2] Application Augmentation - Using a Data Fabric to Make Your Apps Smarter
[Season 1 Ep. 1] The Role of the Data Fabric In Your Target State Architecture